Uncovering the Hidden Messages: 17 Intriguing Details You May Have Missed in Taylor Swift's 'Look What You Made Me Do'
Taylor Swift cleverly incorporated numerous hidden messages in the visually stunning music video for "Look What You Made Me Do." Through subtle hints and clues, she skillfully throws shade at various individuals, including her ex-boyfriend Calvin Harris and her arch-rivals Kim Kardashian, Kanye West, and Katy Perry. Additionally, she playfully indulges in self-deprecating humor, dedicating a significant portion of the video to poking fun at herself. Were you able to decipher all of these intricate details?
The name Nils Sjoberg has met its demise.
The opening scene of the music video unfolds within the somber atmosphere of a gloomy graveyard. An observant eye will notice the presence of a tombstone bearing the inscription Nils Sjoberg. This name may ring a bell as it served as Taylor's pseudonym when she penned the chart-topping track "This Is What You Came For" for Calvin Harris and Rihanna. Initially, she concealed her involvement under this alias, but in due course, the song's official writing credits were amended, revealing Taylor Swift as the true creative force behind it.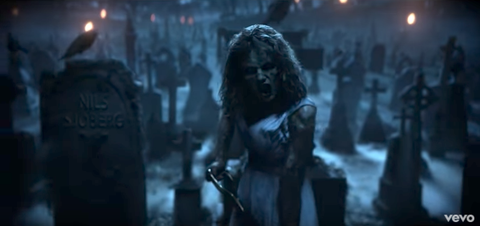 Taylor's nails transform into formidable claws.
In an intriguing sequence, Zombie Taylor lays to rest the 2014 Met Gala Taylor in a burial ground. The Met Gala persona is characterized by neatly trimmed, short nails and a retro matte red lip, reminiscent of the glamorous '50s era, which was once Taylor's distinctive style. The scene swiftly transitions to a glimpse of New Taylor luxuriating in a shower of diamonds, flaunting elongated crimson talons and a lustrous red lip.
At first glance, one might assume that the elongated nails are a subtle dig at Kim Kardashian, as her sisters often sport long coffin-shaped nails. However, it's worth noting that Kim prefers to keep her nails on the shorter side. Therefore, it is plausible that these transformed nails resemble powerful claws. More specifically, tiger claws—a nod to Katy Perry, who identifies herself as a tiger and playfully refers to Taylor as a sheep.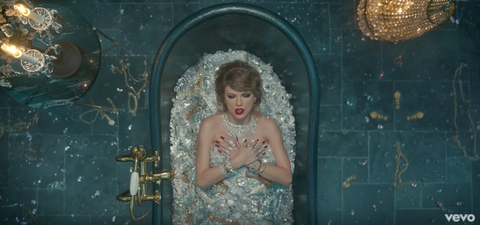 Kim's robbery is depicted in a troubling manner: Last autumn, Kim experienced a distressing incident where she was bound and silenced in a bathtub while thieves made off with jewelry worth $10 million, including diamonds. Considering the specific context, does the aforementioned image appear rather suspicious?
Snakes take center stage: Taylor finds herself seated on a throne surrounded by snakes, fully embracing the snake motif.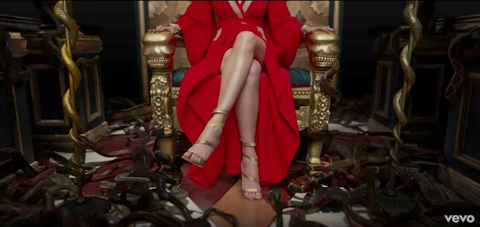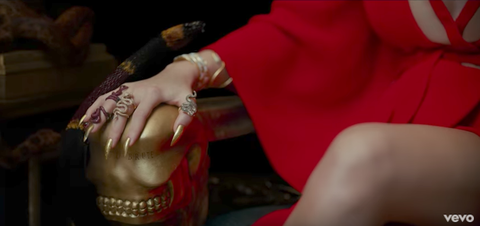 6,She proudly wears her snake rings.
7,Sipping tea and throwing shade: The presence of a tea cup is no accident. Taylor is known for her intentionality in everything she does.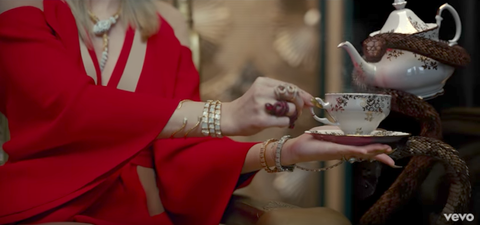 8,The snakeskin dress: Just as F. Scott Fitzgerald persistently references the "green light" throughout "The Great Gatsby," snakes serve as Taylor's symbol throughout "Look What You Made Me Do."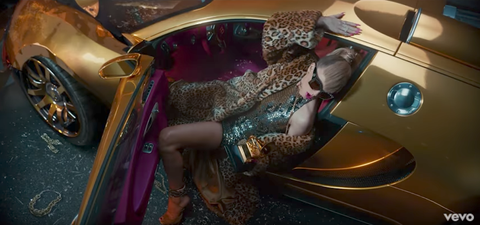 9,Katy Perry allusion: Taylor's short blonde wig bears a striking resemblance to Katy Perry, almost like they could be twins. However, Taylor holds a Grammy Award, something Katy has yet to achieve, as Taylor boasts a total of 10 Grammys.
10,Oversized sweatshirt + thigh-high boots: This combination is often associated with Kim Kardashian and her sisters, popularized by Kanye West's fashion line Yeezy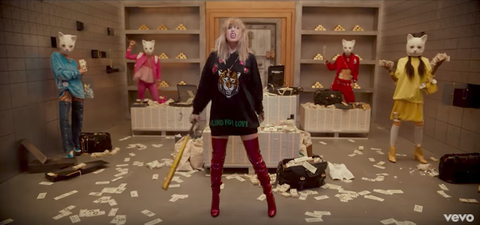 11. Rows of models.
Kanye's Yeezy models stand in tight rows like just like this. Don't think it's a coincidence.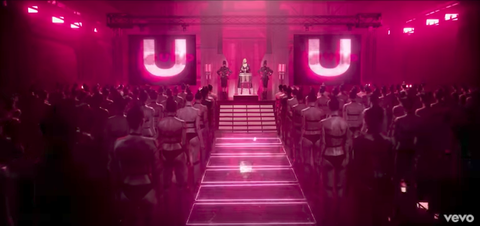 12. This "Bad blооd "-inspired look.
The Old Taylor isn't completely dеad — this black latex look is pretty similar to what she wore in the "Bad blооd " video, probably because that bad blооd still exists.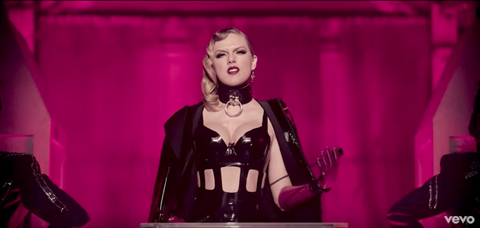 13. Breaking away from the squad: If Taylor is seeking to cleanse her reputation and shed her past life, distancing herself from her squad becomes an integral part of that process. The word "squad" alternates with animated images of her cats, Meredith Grey and Olivia Benson, illuminated by flashing lights.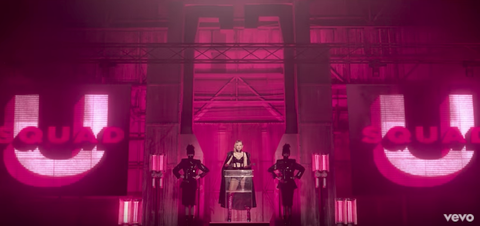 14.  "I <3 T.S.": The infamous tank top worn by Tom Hiddleston, which attracted worldwide attention and speculation.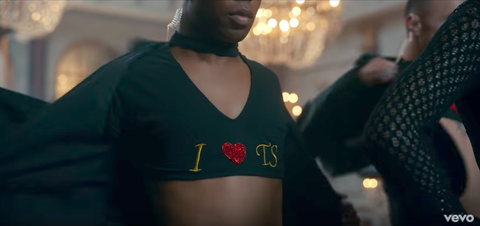 15. Once again, Taylor's subtlety takes a backseat. In this scene, New Taylor stands triumphantly over a pile of crawling Old Taylors, including a curly-haired country singer in a sparkly dress with the number 13 inscribed on her hand in Sharpie. The number 13 served as a good-luck symbol that Taylor used to draw on her hand before her concerts.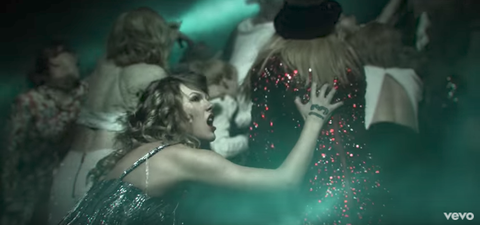 16. Her Vogue boots.
Her Vogue boots: With each album, Taylor undergoes a transformation. In this instance, she transitioned from her "1989" era to her "Reputation" era with the aid of a transformative Vogue cover in April 2016. The same sky-high Vetements boots that Taylor wore in the Vogue shoot make an appearance in "Look What You Made Me Do," symbolizing the dismissal of the Old Taylor. Intriguingly, the Old Taylor is seen wearing a t-shirt bearing the signatures of her friends, Selena and Gigi, showcasing powerful symbolism.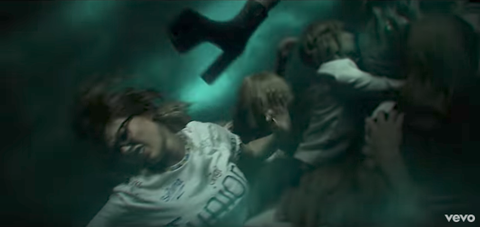 17. Kimye vs. Taylor.
Kimye vs. Taylor: The video accentuates the ongoing feud between Kimye (Kim Kardashian and Kanye West) and Taylor. One version of Taylor, adorned in a snakeskin dress and fur coat, is shown typing away on her phone, claiming to be "gathering evidence." This scene is a clear reference to Kim's Snapchat revelation of Taylor's phone call with Kanye. The subsequent version of Taylor is seen wearing the same sequined one-shouldered gown she wore during the 2009 VMAs, which sparked the initial conflict.